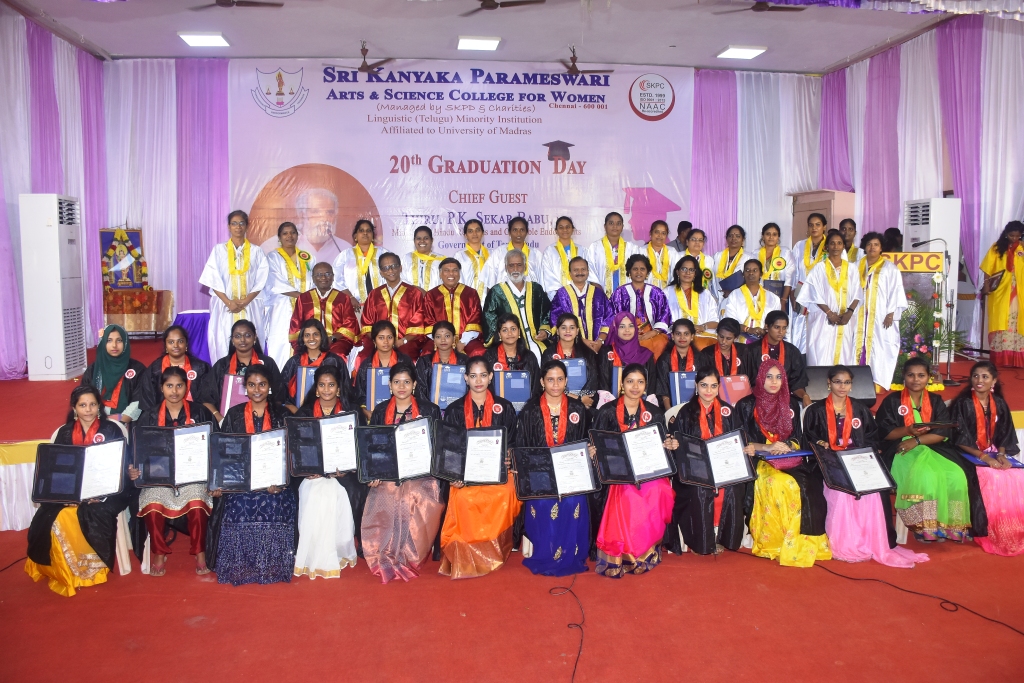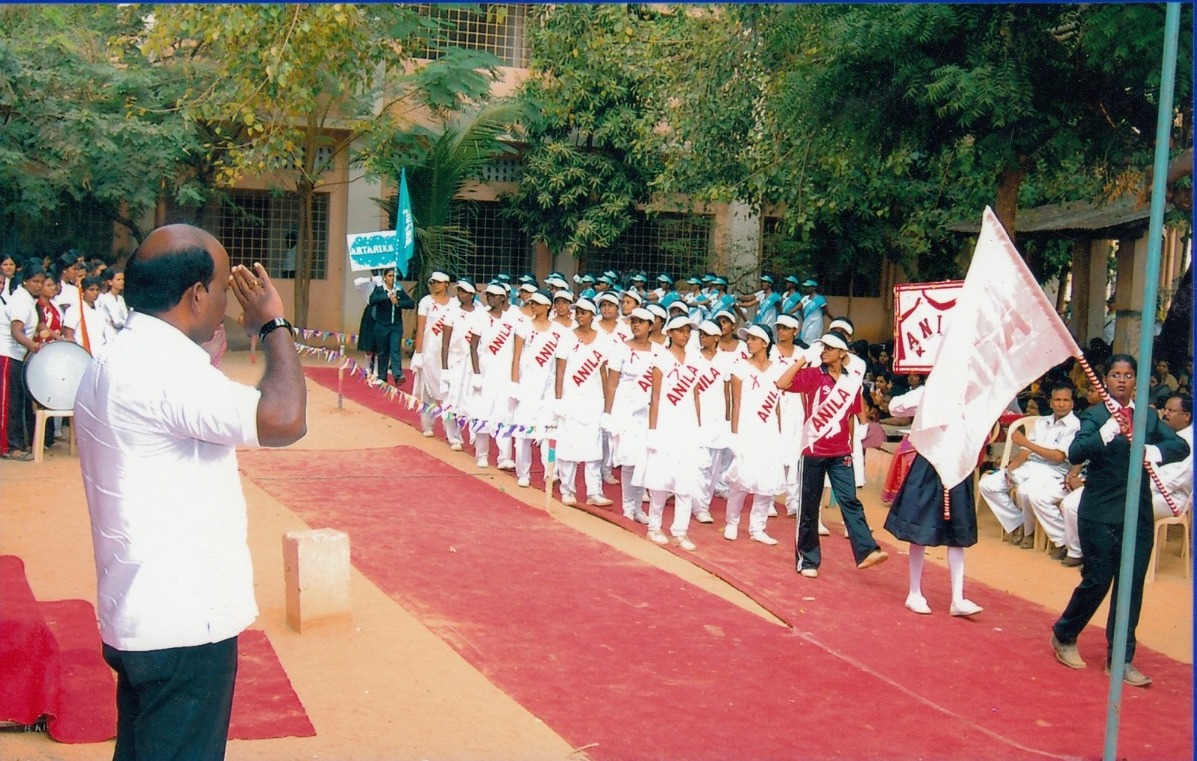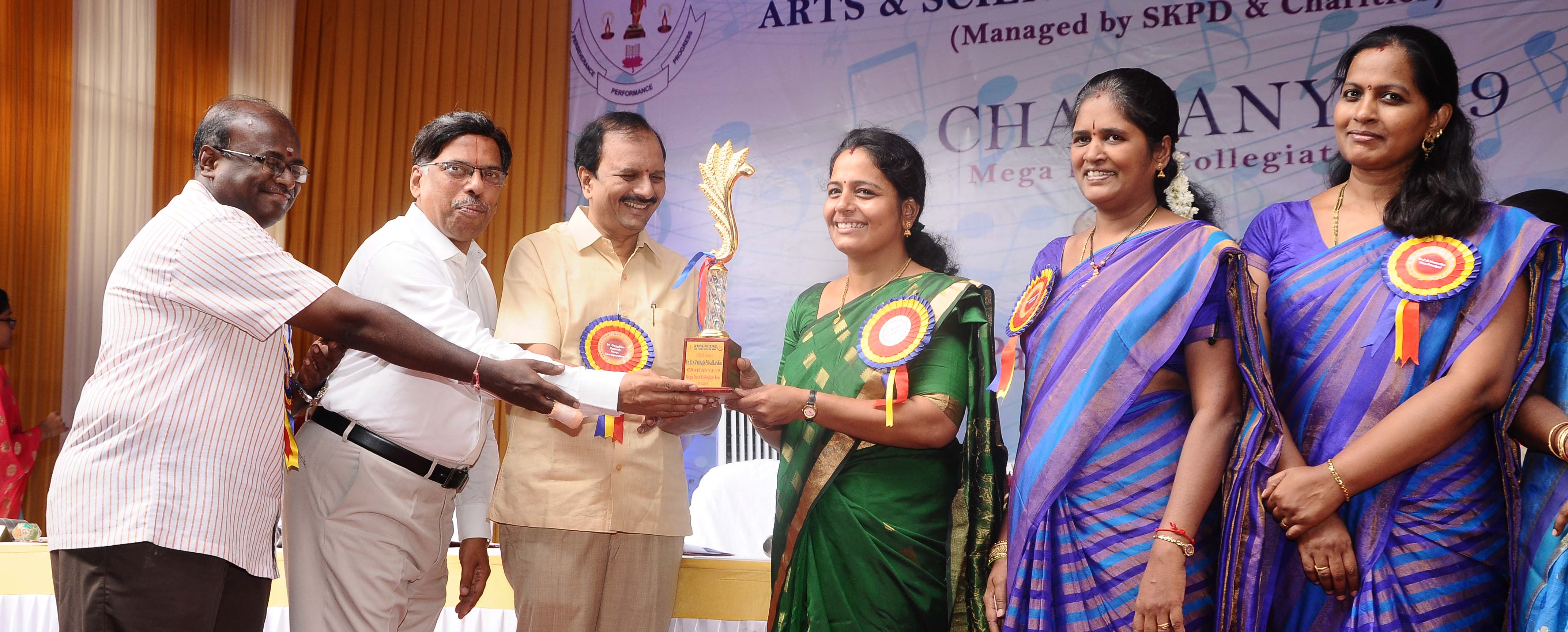 Welcome To Sri Kanyaka Parameswari Devasthanam and Charities
The Management Committee of the S.K.P.D & Charities founded Sri Kanyaka Parameswari Arts and Science College for Women to promote Women's Education in 1999. The institution believes in motivating the student community by inculcating value system in them, through 3P's i.e Perseverance, Performance and Progress. The Institution has completed 22 successful years of experience in the field of education. In 22 years of SKPC, 8313 number of students has passed out successfully and 501 students have secured University Top Ten Ranks. The institution offers 16 UG, 3 PG, one M.Phil. and one Ph.D.(Part time & Full time) Programme. The Institution is affiliated to the University of Madras. The curriculum is formulated and framed by the University of Madras (CBCS Pattern-Choice Based Credit System) to enhance and enrich students' knowledge in different disciplines. The institution is accredited by NAAC and is also ISO Certified.
Principal's Message
The aim and objective of the charities is to give quality education, excellent coaching in curricular, extra-curricular and co-curricular activities to girls, so as to infuse self-confidence and courage in the minds of young girls who are the future makers of our country. The college aims at producing talented young women in all spheres.The College has been producing good results with University Ranks every year right from its inception.
SKPC is always engaged in conducting Seminars, Workshops, Competitions in Academic, Extra-Curricular and Co-Curricular Activities to enhance the overall personality of our students. SKPC Media showcases these activities in our college youtube channel.

Perseverance
Performance
Progress
MOTTO
To make up wholesome development in every single woman, to become a better human being thus contributing service towards self, family and society through education to face the challenges of the world.
VISION
To inculcate positive changes, values and discipline in women and facilitate them to transform from within to become transcendental through Perseverance, Performance and Progress.
MISSION
What Our Chief Guest Says
Mrs. G. Gunavathy
Senior Secretary Chief Commissioner - Income tax Department
I am truly amazed at the kind of quality that this esteemed educational institution is giving it students by way of education, vocational training for employability, the students will surely grow into a very valuable resource to the community. The thought fullness that has gone in quilting and the curriculum is truly commendable and a place my high impression gained as my best experience in an educational institution.
Dr. N. Dhanapal
Joint Commissioner, HR & C12, Dept., Chennai.
It is an excellent educational Institution, which is producing very knowledgeable students all these years. Its progress & development will raise every day to lead to cross certain together.
Dr. S. Gowri
Vice-Chancellor, UNOM
Good College and efficient Principal and faculty have dedicative for girl Students.
Mrs. R. Priya
Honorable Mayor, Greater Chennai Corporation
It is really very honored to be in this college day event. Students are very brilliant and the students from this prestigious institution will shine well in their ensure and life.
Ms. Rita Thyagarajan
Playback Singer
Absolutely loved my experience performing a short set for the lovely students of SKPC. The management and students gave me an immemorable experience. Thank you for your hospitality.

Mrs. B. Bhuvaneswari
Formar International TT Player & Coach Head Coach @ Raman TT Hpc
I had a pleasant evening will the staffs and students of the esteemed institution. The girls were very energetic and full of life. Enjoyed the evening.
Aravind Karneeswaran
Playback Singer
Loved the ambience and the energy of the students so much of positivity all through. Lots of Love.
Ms. Kavitha Gopi
Playback Singer
It was an immense pleasure to be here & my best wishes to the entire team & faculties for the Best Future.
Mr.U.Sudhir Lodha
State Minorities Commission Member, Government of Tamil Nadu
The students were interactive and receptive. I was impressed by the interest and initiative taken by the Management supported by dedicated and enthusiastic team of faculty.
Mr. V. Vikraman (I.P.S)
Assistant Superintendent of Police
I am thrilled and excited to see such a big college doing wonderful service to girls from modest background.
Dr. G. Koteswara Prasad
Registrar In-Charge, University of Madras
Very nice institution and disciplined students and staff made the occasion meaningful. Spacious rooms and fairly good infrastructural facilities provide conducive environment for the students to concentrate and do well in their studies. I wish the institute and all the members of the college all the best in the future.
Prof. Ravindran Ramaswamy
University Tun Abdul Razak - Kuala Lumpur ,Malasiya.
Thank you for excellent co-operation and patient listening and interaction of participants. I enjoy this session.
Mr. A. Bruno
Zonal Director, Narcotics Control Bureau, Chennai
Delivered a session on Drug Abuse and its consequences which was attended by 250 students. My sincere gratitude to Smt. Dr.T.Mohanashree Principal , Smt.Vaneetha Baskaran VP and Ms.Nirmala Narayanan Prof.H.O.D., for the warm welcome and best of the kind arrangements.
Sri V. Nandakumar IRS
Joint Commissioner of Income Tax Ministry of Finance, Government of India
All my sisters of this college felt the pride of Republic and committed to make it best in the future.

Prof. S.S.Sundaram Ph.D.,
University of Madras Member Syndicate.
Respected Trustee I have privilege I am proud to be here as a Chief Guest of today function I appreciate the board involvement for promoting the down thrown the student.
Justice N.Kirubakaran
Judge Highcourt, Madras
I feel honored for having participated in the convocation of the wonderful institution managed by able trustees and administrator by committed principal and her team.It is really wonderful to hear that many university ranks are achieved by the students. I wish the college to become a University in due course.
Ms. Padma Venkatraman
President of Women's Indian Association
Thank you for giving me the wonderful opportunity for participating in this wonderful event. I find this a unique institution in many ways. Your program to develop young entrepreneur along with regular degree course his to be replicated in other institution also. Wish you all the very best to continue success in your noble endeavour.
Thiru A. Shanmuga Sundaram I.A.S.
District Collector, Chennai
Its my pleasure and privilege to attend the 20th year celebration of SKPC today. The college serves as an excellent institution in the socially under privileged in north Chennai. I today observed the dedication of the staff, Alumnae and the involvement of the students. I could see the joyous faces and confidence in the eyes of the students above the bright career. My best wishes and congratulations to the college Admin and Staff as well as the faculty.
2018 - 2021 UNIVERSITY RANK HOLDERS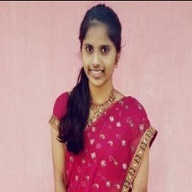 LINGALA KALYANI
B.A.(Eng) 3RD RANK IN TELUGU
MS AARTHI R
B.A. (SOCIOLOGY) - 3RD RANK IN MAJOR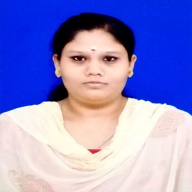 MS AISHWARYA G
M.SC.(HSC-ID & ID) - 10TH RANK IN MAJOR
MS AMISHA V TRIPATHI
B.COM.,(CS) 7TH RANK IN HINDI
MS ANUPRIYA A
M.SC.(HSC-ID & ID) - 4TH RANK IN MAJOR
MS BASANI BHAVANI
B.A.(SOC) - 9TH RANK IN MAJOR
MS DEEPIKA S
B.COM. (HONS) - 5TH RANK IN MAJOR
MS FARZEEN SHAHAB
M.SC.(HSC-ID & ID) - 6TH RANK IN MAJOR )
MS GEETHANJALI R
B.SC.(HSC-ID & ID) - 6TH RANK IN MAJOR
MS HARINI
B A (SOC) - 2ND RANK IN MAJOR
MS HASEENA PARVEEN S
B.SC.(HSC-ID & ID) - 1ST RANK IN MAJOR
MS JANANI K M
B.A.(SOC) - 5TH RANK IN TELUGU & 8TH RANK IN MAJOR
MS KANIMOZHI S
M.SC.(HSC-ID & ID) - 7TH RANK IN MAJOR
MS KAPULURU MAHALAKSHMI
B.Sc.(MATHS) - 1ST RANK IN TELUGU
MS KIRTHIKA S
B.A.(SOC) - 5TH RANK IN MAJOR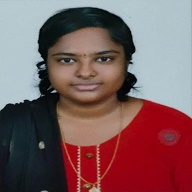 MS KOTHUR CHARULATHA
B.SC.(MATHS) - 10TH RANK IN TELUGU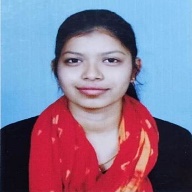 MS KUSUMLATA
B.COM(BM) - 7TH RANK IN MAJOR
MS MAHESWARI M
M.SC.(HSC-ID & ID) - 1ST RANK IN MAJOR
MS MEGANA M
B.SC.(CS) - 3RD RANK IN TELUGU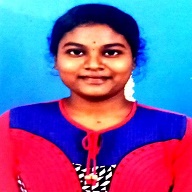 MS MONIKA J
B.SC.(CS) - 7TH RANK IN TAMIL
MS NAHEETHA FARVEEN M H
B.A.(ENG) 7TH RANK IN ENGLISH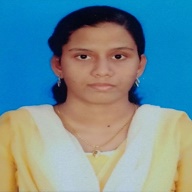 MS NOOR ASIFA S
B.COM( ACCOUNTING & FINANCE ) - 5TH RANK IN MAJOR
MS POONAM KUMAWAT B
B.A.(SOCIOLOGY) - 4TH RANK IN MAJOR
MS RAMYA P
B.Sc.(CS) - 2ND RANK IN TELUGU
MS RINI BERLINDA P
B.A.(SOC) - 6TH RANK IN MAJOR
MS SASI KALA V B.A.(SOC) -
10TH RANK IN MAJOR
MS SHANMUGANANDHINI V
B.COM. (HONS.) - 6TH RANK IN MAJOR
MS SIVA DERSHINI S
B.A.(SOC) - 7TH RANK IN MAJOR
MS SOUNDARI S
B.SC.(CS) - 2ND RANK IN MAJOR & 4TH RANK IN ENGLISH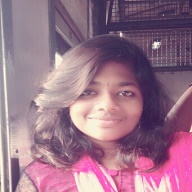 MS SRIVARSHINI S
B.SC.(PSYCHOLOGY) - 3RD RANK IN ENGLISH & 5TH RANK IN MAJOR
MS SUBHALAXMI R
M.SC.(HSC-ID & ID) - 5TH RANK IN MAJOR
MS SUMAIYA BEGUM M
M.SC.(HSC-ID & ID) - 9TH RANK IN MAJOR
MS UMMUL FAZL D M
B.A.(SOC) - 1ST RANK IN MAJOR
MS VAISHALI A
M.SC.(HSC-ID & ID) - 8TH RANK IN MAJOR
MS VASAVI G
B.SC.(MATHEMATICS) - 3RD RANK IN MAJOR
MS VIJAYALAKSHMI R
M.SC.(HSC-ID & ID) - 3RD RANK IN MAJOR
MS ZEENATH QATOON I
M.SC.(HSC-ID & ID) - 2ND RANK IN MAJOR